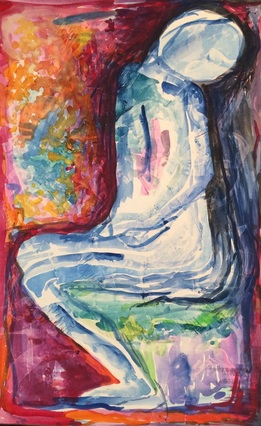 Mindfulness has become a large part of wellness recently, but what does it mean?
Mindfulness is accepting where one is in their current state. It is an intentional moment of accepting one's emotions, thoughts and sensations occurring in the present moment. The term originates as an essential element of Buddhist practice. In our culture the practice of mindfulness can be utilized to alleviate mental and physical conditions.

I have found a way to support this practice in creativity. I believe creativity is a choice. It is an action word, one that we must engage in. We are all born with the ability to choose to be creative, whether it is in making art, problem solving, choosing how we decorate our homes, cooking, communicating. Creativity is a broad opportunity that we must CHOOSE to engage in.

In all art therapy the self critic can be our worst foe in the process. In mindful creative expression we take some time to recognize where we are at and then work in an abstract manner focusing solely on the process. We find a media first to start with, whether it is paint, drawing materials or collage and move from there. Collage should be accepted for the abstract qualities, color and texture...not the symbols or the metaphors. The process is organic and transitions with each persons unique reaction to media. Individuals may mix media or stay in one through the workshop, but being true to the process and where it takes them.


Being mindful of one's overall wellness is vital in today's busy world. Our lives are multidimensional and often complicated. We live balancing our emotions, finances, spirituality, work struggles, home life and social relationships, if one area of our life is out of balance other areas may suffer. Art therapy combined with mindfulness is a dynamic addition to any wellness plan engaging both sides of the brain in a judgement-free, process driven experience.
If you would like to explore mindfulness and creativity come join us at one of our monthly workshops!
More details HERE