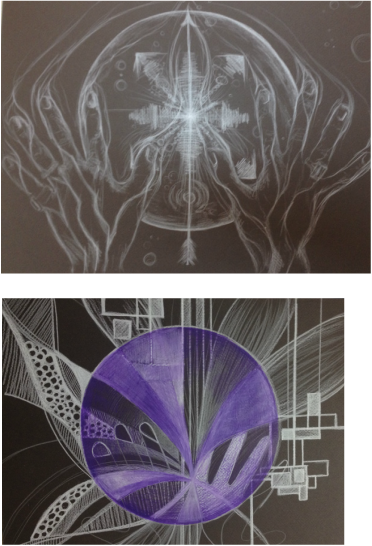 This is a question I am often asked.
I also hear things like,
"Is art therapy just for artists?"
"Is art therapy just for kids?"
Many years ago, when I finished my undergraduate degree I had no clue what art therapy was. I left Alma College with degrees in English and Art, a little unsure what to do next. I moved to Ann Arbor, Michigan and decided I would pursue an MFA. I had just left an art department team that had guided me in awakening a creative side in me that had been dormant and denied. In my first quarter I took a psychology class and there I heard the term
art therapy
. It was a "light bulb" moment for me. There was no turning back.
Fast forward to now and I am lucky to have established a practice in an open studio that has been open nine years this fall. There were other jobs in between (community mental health including foster kids and juvenile justice), but here I am home. Open studio, a place with a broad spectrum of art therapy. In this space I serve a multitude of populations in both clinical art therapy and in fine art education.
Oh, but what about the original question...what is art therapy?
Art therapy is a modality in clinical support. Art therapists are masters level clinicians. Art therapy emerged in the 1930's and was first recognized as a human service profession in the 1950's. Art therapists may provide art therapy services as primary form of treatment or it can be parallel or adjunctive in treatment found in many different settings, such as clinical, educational, rehabilitative, and mental health settings. Any mental health clinician who has not received a Master's in Art therapy may not be a true art therapist. When a clinician has an ATR they are a registered art therapist and have fulfilled the requirements of the ATCB (Art Therapy Credentials Board).
Art therapy is practiced in mental health, rehabilitation, medical, educational, and forensic settings with diverse client populations in individual, couples, family, and group therapy formats. This approach in counseling can be an effective treatment modality to individuals experiencing developmental, medical, educational, and social or psychological impairment.
In my work with clients, I use an eclectic approach, tailoring to the needs of each individual client, even in a group setting. I see the art my clients create as a safe holding space or a "transitional object." This approach works with anyone and provides one with the opportunity to project struggles and/or concerns interfering with daily life while addressing them in a structured and safe environment. Art therapists focus on the process, from the moment a client arrives until they leave. The product is a concrete object derived from gentle prompts given with intention unique to the clients needs. The product provides the therapeutic relationship a kind of "third voice." In the art therapy process I witness problem solving, creativity and positive risk taking. In the art therapy process I also witness clients finding words for feelings or events that they didn't have words for before. This safe and supportive process anyone can access, with or without prior experience in art making. I am always honored to be present and support work being done, whether it is in group or individual sessions. Open studio is just one version in a dynamic and broad field.
In our studio we have many options for exploring the world of art therapy, from
individual, family or group
to
insight oriented workshops
to
art journaling
. For more information
contact me
or check out the resources below to find art therapy opportunities in your area.
Additional resources:
Art Therapy in Oregon
:
ATCB: Art Therapy Credentials Board
AATA: American Art Therapy Association