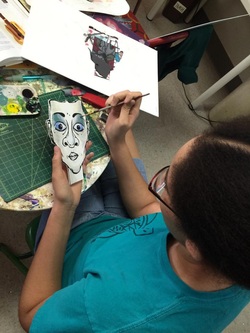 I have been working in my studio since 2006. We have had some form of intern since close to that time. My open studio,
100th Monkey Studio
, is a multifaceted place with therapy offices, art gallery/waiting areas, structured art education and independent open studio. You could say that my studio displays a broad spectrum of art therapy from the more clinical to a supported strengths based approach to learning and making.
How do interns fit in to an open studio?
Initially we had interns that did specific types of internships (art education, art therapy and curatorial), but now the internship program has evolved to focus on a combination art therapy/art education experience. In clinical groups, interns shadow and assist as needed. In adult workshops, interns participate. In art education experiences, interns lead small groups (no larger then 8 participants) in the instruction and creation of a fine art or artisan craft piece.
Why do an internship?
I have been asked about the benefits of interning over the years. I wish I would have participated in an internship prior to going to graduate school. While my volunteering experiences were rich, they lacked consistent structured supervision and support. I think any kind of internship is helpful to any individual considering a masters degree of any kind. In the process you will potentially have experience relating to team work, communication, public speaking and customer service. Interns in my studio also make a lot of art. I have never heard complaints about this. :) In the three months they are with me interns have an opportunity to do a great deal of self-reflection as well as achieve clarification about the field of art therapy and if it fits with their plans for the future. While I have met and worked with many interns over the years, I am profoundly honored to be a stop on their paths in their life journey.
For more information on our studio internship click
HERE