Artist/Humankind: Location/Earth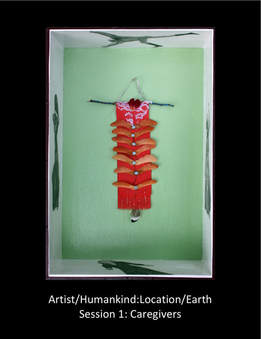 Caregivers
In July 2012 AH:LE was born. In the pilot project a group of participants answered a call for individuals who were in a caregiver role. The start of a long term project, AH:LE, exploring the human experience. Honoring diversity, with goals to inform, educate and dispels rigid norms through conversation, art creation and problem solving, initially through art making and then in the community through art exhibits and conversation.
The pilot project began focusing on how humans act as caregivers, while also taking a look at their own self-care. Participants engaged in eight weeks of art therapy based workshops and then participated in a group exhibit featuring their art. Participants experienced caregiving in many ways, including parents caring for children some with special needs, adults caring for their aging parents, and adults caring for adult children. Through the process participants experienced increased ability using community, creativity in self-care, as well as in problem solving. Participants reported to gaining new insights into past, present and future life choices through the experience.
Follow AH:LE and see other amazing resources for all humans on
AH:LE's Facebook page.
---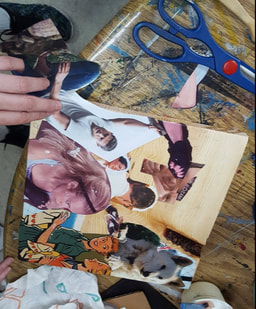 The Gender Expression Creative Summit is Launched
In the spring of 2017, the Gender Expression Creative Summit was finally hatched after 5 years of incubation. Art making occurred from April through July 2017, including individuals ages 15 to 75 years of age.

40 individuals arrived for group screenings and then 29 completed the process of making art at 100th Monkey Studio in open studio sessions. Participants contemplated their own experience of gender expression focusing on past, present and future through their art process.


---
Now showing: The White Gallery at Portland State University
The Gender Expression Summer Exhibition
We live in a world full of diversity, gender expression being just one of the many wonderful complexities that define each individual's uniqueness. Individuals are identified by gender in social and cultural contexts from birth throughout life.
Join us in witnessing the creations from our Gender Expression Creative Summit. An art experience of 29 artists, who made art in a community space and explored the concept of their own gender expression over 4 months.
Stop by and see the entire collection and carry on the discussion, honoring the fluidity and dynamic potential that is the gender spectrum.
Past stops
:
Evolve Gallery @100th Monkey Studio August 2017
Now showing:
PSU White Gallery
1825 SW Broadway
Collaborator and curator talk October 20th, 2017 from 6-8pm.

Future visits:
​December 2017-March 2018 Heritage University Main Gallery
Photo Gallery
---