Artist/Humankind: Location/Earth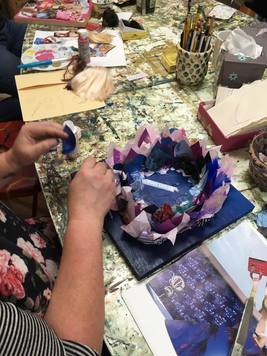 In 2012 Beth Ann Short started a project called Artist/Humankind: Location/Earth.
Artist/Humankind: Location/Earth (AH:LE) was created to provide anyone the
opportunity to share their own life experiences using a creative outlet and find
community in the process.​
Goals of the project:
Participants will experience increased ability to use creativity in self-care, as well as in problem solving while gaining insight into past, present and future life choices through this process.
Participants will explore self-perception and personal role identity formation while exploring and engaging with others in core group finding normalcy in their experience relating to the role of the session, while translating their own experience in their unique art voice.
Participants will examine the concept of roles in life that guide our behaviors, rights and obligations through the social experience in social status, social community and expectations of other.
Our next project topic will be announced in the WINTER of 2018.
---
Past roles explored:
Photo Gallery