AH: LE The Gender Summit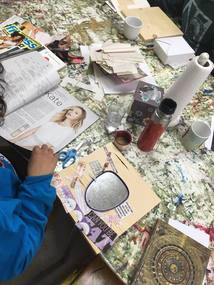 The Gender Expression Creative Summit is Launched
In the spring of 2017, the Gender Expression Creative Summit was finally hatched after 5 years of incubation. Art making occurred from April through July 2017, including individuals ages 15 to 75 years of age.

40 individuals arrived for group screenings and then 29 completed the process of making art at 100th Monkey Studio in open studio sessions. Participants contemplated their own experience of gender expression focusing on past, present and future through their art process.
---
The Gender Expression Summer Exhibition
We live in a world full of diversity, gender expression being just one of the many wonderful complexities that define each individual's uniqueness. Individuals are identified by gender in social and cultural contexts from birth throughout life.
Join us in witnessing the creations from our Gender Expression Creative Summit. An art experience of 29 artists, who made art in a community space and explored the concept of their own gender expression over 4 months.
Stop by and see the entire collection and carry on the discussion, honoring the fluidity and dynamic potential that is the gender spectrum.
Past stops:
Evolve Gallery @100th Monkey Studio August 2017
PSU White Gallery October 2017
Now showing:
Heritage University
Closing reception March 2018
Next stop:
Marylhurst University during the First Annual Creative Arts Therapies Conference. We are excited to announce that Beth Ann Short and a few of the artists who participated in the summit will be doing a panel discussion in the conference. Stay tuned for details.