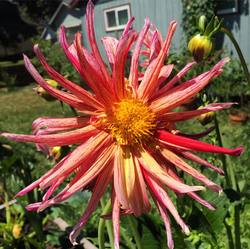 Every time you blink you change. Literally.
Change is a constant in our lives. Often it is subtle and we barely notice when it happens, other times it can be a turning point in our experience of life.
What changes in your life do you remember? Was a change due to you changing a point of view? Have changes occurred accidentally?
This week think about changes in your life. Change is inevitable. How we face change is something that we can learn to make more predictable and self-preserving. Embracing change may help in the transition. It is also important to remember to nurture yourself a little in the process. You may also hear your inner critic as you begin to move out of comfort zones that you may have grown out of.
This week examine your past patterns of change and coping. Honor change whether it was easy or difficult. Look at your strengths and examine how they have served you and let them be an opportunity to embrace future change. Write, use collage...explore in your art
process
and don't worry about the product.
Journaling is an ideal place to honor your process.
Listen to your body, mind and spirit. During the process take care of your needs. Take breaks if you need to. It's an honor to be a part of your journey. Be kind to yourself!